MYKD's master plan for the soon to be McIntire Botanical Garden has won an Honor Award from the American Society of Landscape Architects in the analysis and planning category. The plan incorporates a vision for a premier botanical garden in Central Virginia that showcases the natural systems of the Piedmont region.
"We're thrilled to be a part of the vision plan that makes this a place of resiliency, discovery, healing, and unity for downtown Charlottesville. For the ASLA to acknowledge the work we're doing there— and for the jurors to highlight it as demonstrative of how landscape can influence both the ecological and cultural systems of a community— is such a great honor," says Mikyoung Kim, whose team is leading the design of the project.
Driven by the community's insights and aspirations, this master plan activates the site's ecology in novel ways and guides the creation of a compelling new destination that builds social infrastructure and fosters social healing. This 130-acre garden will integrate crucial stormwater management and infrastructural issues with current cultural concerns that have affected Charlottesville in the last few years. Designed with a focus on education and well-being, the garden will encourage a new kind of civic engagement. The plan celebrates the systems that transform the site from season to season and creates a place for the community to learn about the way that landscape can impact both the ecological and cultural systems of a community.
Defined by the site's steep topography and woodland conditions, the master plan creates a series of terraced gardens and discovery walks. Nestled within the woods is a visitors' center, an amphitheater and an event space that provides opportunities to hold community events, while also facilitating educational and cultural activities. Meadows, groves, wetlands, and a collection of botanic gardens, together with a waterfall feature and canopy walk, encourage engagement. Ultimately, the plan brings to life a garden in the woods focused on inclusion, exploration, and the natural world's transformative power to start a dialogue and heal a community.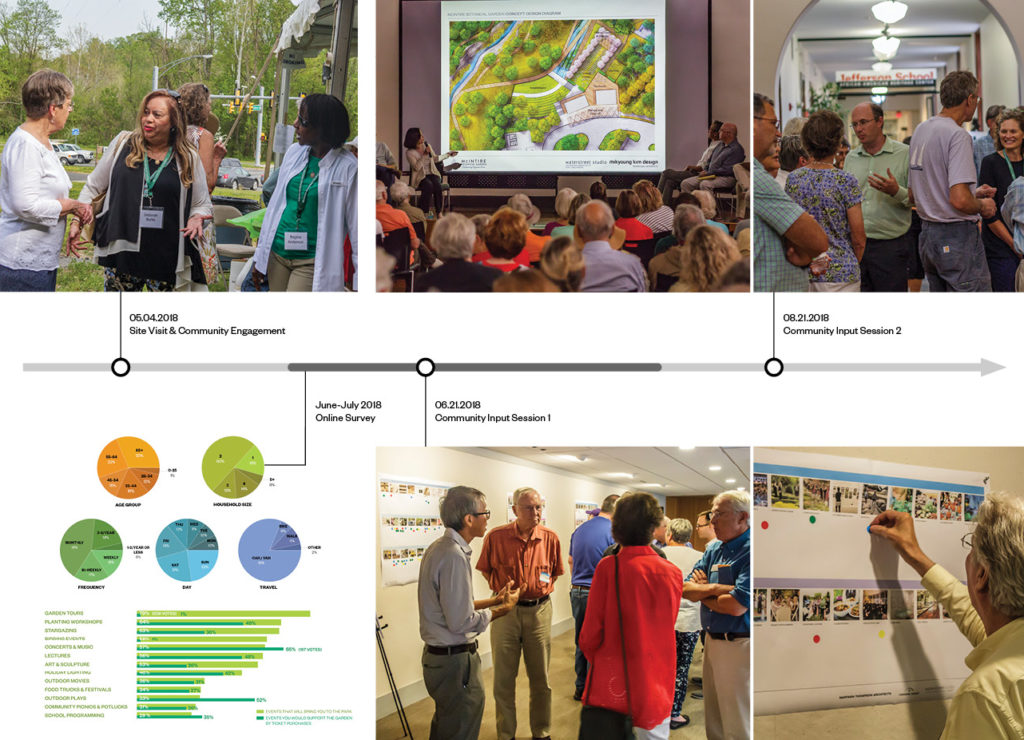 Analysis and Outreach
A community-driven process from the beginning, the planning team hosted two larger workshops and several smaller sessions to better understand what was important to the project's stakeholders and how the community envisioned the site. To extend the team's reach, digital surveys were deployed in which participants shared their demographics, relationships to existing regional public/green spaces, and their preferences for a new public space. From the beginning, stakeholders saw this space as one of unification; dedicated to inclusion and social healing amidst Charlottesville's recent unrest. Strong opinions on the importance of sustainability and resilience for the garden, both from an ecological and financial perspective, were also expressed.
Through this community process, the groundwork was laid for the establishment of partnerships with various public and private agencies, academic institutions, and non-profit organizations that could help bring in diverse groups and support the garden as a place of learning and discovery, and facilitate growth into the future. With the Charlottesville High School as the garden's direct neighbor, as well as several elementary schools, a YMCA, and the University of Virginia within two miles, there is significant opportunity for student engagement supported through cross programming, indoor/outdoor classroom space, internships, and dynamic interventions that celebrate the science of landscape.
Iterative design was utilized throughout the planning process. By taking participants' feedback and giving it form, the design team was able to have productive conversations around not only programming, but how that program may take shape in the landscape. During the second large workshop, the team presented two schemes under the concept of "The Nest." Both options focused on a delicate intervention that would be woven into the site, however, the options offered contrasting spatial arrangements and approaches to moving visitors throughout the space. Given the challenge of designing a botanical garden in the relatively small, 12-acre footprint, theses diagrammatic designs were critical in generating a productive and specially grounded conversation.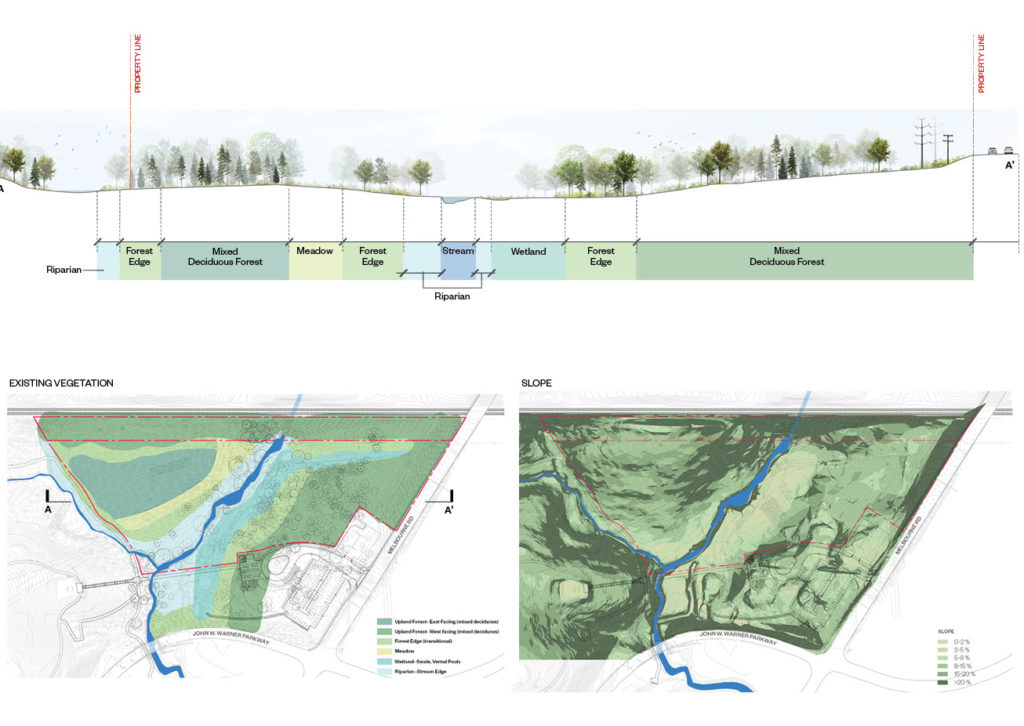 Activating Ecology & Hydrology
The celebration and illustration of the Piedmont region's natural features and ecology emerged as key goals. The design team envisioned the garden as a stormwater management facility and established opportunities for sculptural interventions that would highlight natural hydrological cycles and feature the region's native flora and fauna.
Local experts from the nearby University of Virginia were consulted to establish a framework for the planting approach, which considers the evolution in our definitions of native plant materials by asking 'what is native?' and 'how should our definition of native plant communities evolve in a time of changing climate and increasing environmental stressors?'
Dynamic plant material will celebrate seasonal displays and support native fauna that may either inhabit the site as permanent residents or as a migratory resting place. A tree survey was commissioned to better understand the site's existing vegetation, so that undisturbed mature areas could be incorporated into the design and serve as an established foundation to the site's ecological evolution. Existing plant communities and conditions were analyzed and used to guide the ecological archetypes that would be featured throughout the garden, including a mixed forest, woodland/forest edge, meadow, wetland, and riparian corridor.
The site's dramatic changes in topography and its two natural streams are celebrated features. GIS and hydraulic surveys were used to better understand the site's relationship to the Rivanna watershed and provided a blueprint for the riparian corridor, which serves as the garden's spine. The source of this corridor is celebrated by a waterfall fed by an existing culvert. Aquatic gardens and earthworks carve out opportunities for visitors to move into and around the rich wetland ecologies, while also serving as infrastructure capable of holding large volumes of water. The landscape's capacity to serve as a temporary detention pond, where water can be released slowly, is intended to mitigate flooding on adjacent properties in the face of ever more frequent extreme weather events.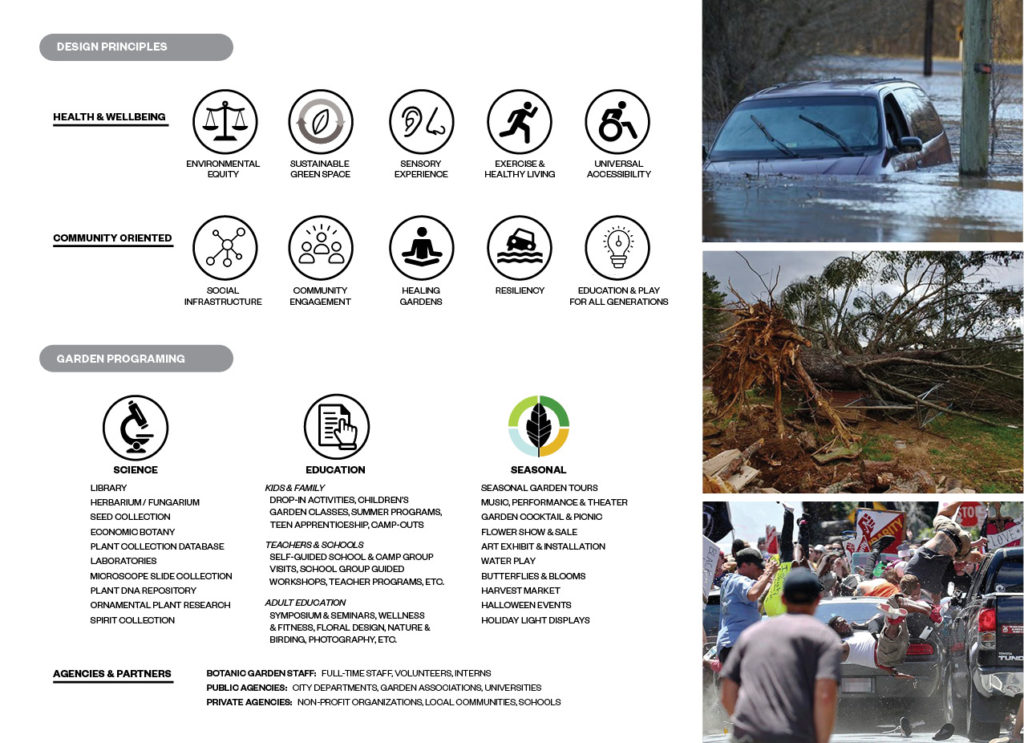 Unity and Wellness
This McIntire Botanical Garden plan redefines the notion of botanical gardens as not just places to discover botany, but places that pull a broad audience, adding a distinct social overlay to the agenda.  This social engagement is facilitated through a compelling space that can support diverse programming from weddings and yoga, to seasonal celebrations and performances. The garden is a place where visitors from all generations can put away their phones and linger, and maybe even interact through shared experiences that engage the natural world – experiences that are becoming more and more remote.
Research showing the benefits of access to nature is well-established: McIntire Botanical Garden will provide visitors with access to physical and emotional benefits through both active and passive recreation opportunities. The plan proposes a garden where the shade of trees and spray of a waterfall can cool elevated heart rates. Meanwhile, quiet moments in the woods or reflection garden allow visitors to gather their thoughts and let stress melt away.
The terrain was carefully studied in order to make trails accessible and family-friendly, allowing for engagement across generations despite the steeply sloped woodland condition. Three garden walks, two of which are ADA accessible, offer trails of varying lengths and degrees of difficulty to accommodate and encourage all levels of active engagement…from a leisurely stroll to a new hiking or running route. These trails are extended further by enhancing and connecting to existing bike and pedestrian routes.
Natural play areas that foster exploration and engagement were designed to further appeal to youth and facilitate the garden's appeal as a destination for families. Beyond designated play areas, playful interventions from slides to multi-sensory gardens and seasonal wetlands for water play are incorporated throughout the site.
The comprehensive plan focuses on enhancing the existing ecosystems while providing gardens for interactive and immersive learning. Once complete, the garden will highlight an evolving collection of native plant materials woven into sculptural interventions, defining this modern-day botanical garden – a place removed from the fast-paced digital world where diverse people can come together, learn, and explore.